Music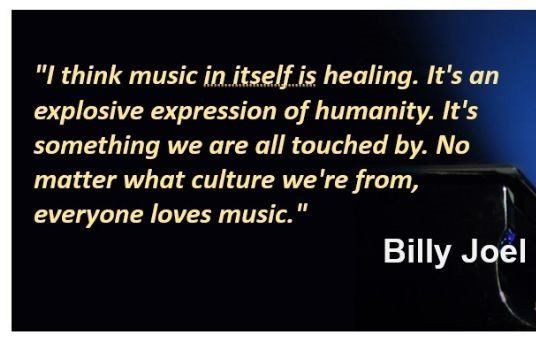 Hillcrest's 5 Principles for Music
At Hillcrest, each subject team has created 5 key principles, outlining what makes up quality teaching in each subject:
1. Teachers will be teaching from the SingUp scheme
2. Children are practically and (encouraged to be) enthusiastically engaged in lessons
3. The 3 pillars of a high-quality music lesson would be to listen and appreciate, compose and perform.
4. To promote critical engagement in the curriculum, children will use the elements of music vocabulary when appreciating music from a plethora of genres.
5. To cultivate a love of music that will encourage holistic development (Social Moral Spiritual Cultural) of all children
Click on the INTENT, IMPLEMENTATION and IMPACT bars below to discover why and how we teach Music.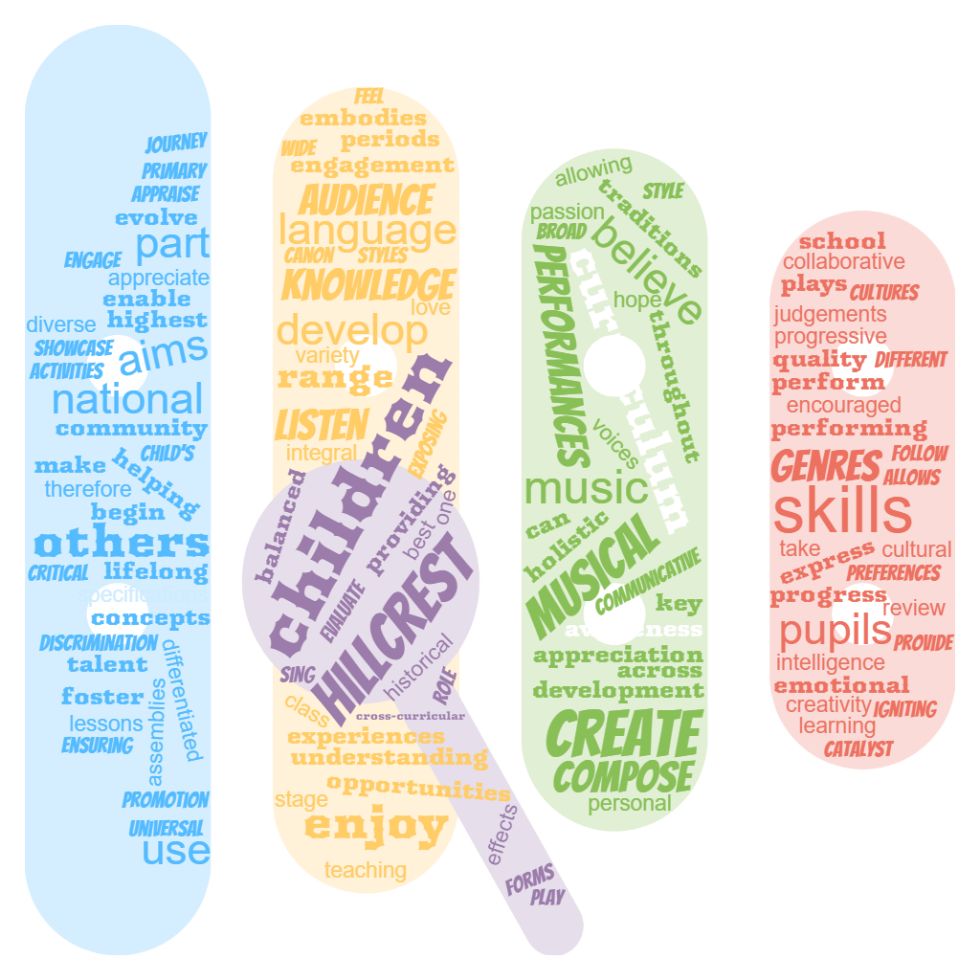 INTENT Statement for Music
Music is a universal language that embodies one of the highest forms of creativity. As pupils progress, they should develop a critical engagement with music, allowing them to compose, and to listen with discrimination to the best in the musical canon (The National Curriculum).
Music teaching at Hillcrest Primary School aims to follow the specifications of the National Curriculum; providing a broad, balanced and differentiated curriculum and ensuring the progressive development of musical concepts, knowledge and skills.
We hope to foster a lifelong love of music by exposing pupils to diverse musical experiences and igniting a passion for music.
At Hillcrest, we believe that music plays an integral role in helping children to feel part of a community, therefore we provide opportunities for all children to create, play, perform and enjoy music both in class and to an audience. Through cross-curricular activities, children are encouraged to engage with music throughout their learning journey. This allows for children to not only develop their knowledge and understanding of music, but evolve their emotional intelligence, cultural appreciation, communicative and collaborative skills. At Hillcrest, we believe that music is a catalyst for promotion of a child's holistic development. Through assemblies and key stage performances, children showcase their talent and their understanding of performing with awareness of others. Lessons enable children to develop their skills, appreciate a wide variety of music and begin to appraise a range of musical genres.
The aims of our Music curriculum are to develop pupils who:
Enjoy and have an appreciation for music.

Listen to, review and evaluate music across a range of historical periods, genres, cultures, styles and traditions.

Can sing and use their voices to create different effects.
Create and compose music, both on their own and with others.

Use a range of musical language.

Make judgements and express personal preferences about the quality and style of music.

Take part in performances with an awareness of audience
IMPLEMENTATION Statement for Music
Music teaching at Hillcrest delivers the requirements of the National Curriculum through use of the SingUp scheme of work. Together, the 80+ units (for Nursery to Year 6) represent a complete and progressive library of resources that meets the requirements of the National Curriculum for Music, the suggested approaches of the Model Music Curriculum, as well as the Statutory Framework for Early Years Foundation Stage and Music Development Matters.
Within the EYFS setting, music is an integral part of children's learning journey. Rhyme and rhythm are utilised throughout the learning of phonics, handwriting and mathematics. Children learn a wide range of songs and rhymes and develop skills for performing together. Singing and music making opportunities are used frequently to embed learning, develop musical awareness and to demonstrate how music can be used to express feelings.
Children in Year 4 benefit from whole class specialist teaching, delivered by a member of Norfolk Music Hub Services. These lessons allow children the opportunity to learn to play a notated instrument (ukulele) and a percussion instrument (Samba drums) as part of an ensemble and to instil a love of music learning. With such provision, children can apply their understanding of creating notes to different instruments and practise reading basic music notation. They also learn how to compose, focusing on different dimensions of music, which in turn feeds their understanding when listening, playing, or analysing music.
Performance is at the heart of musical teaching and learning at Hillcrest and pupils participate in a range of performances during their school 'career'. These include nativities (KS1), Christmas performances (Years 3 – 6) and a Leavers' performance (Year 6). Pupils also take part in singing assemblies. Children who participate in peripatetic lessons are given the opportunity to perform to their peers. This provides them the experience of performing to an audience and encourages the development of skills that are required to do this. Parents are invited and welcomed to watch all of these performances whether at school or outside of school. There is a weekly choir club available to all KS2 pupils and we do encourage those with a musical talent or passion for music to take part. We also offer all children the chance to learn a musical instrument with specialists from across the county.
IMPACT Statement for Music
Over their time at Hillcrest, our students will be given the skills and knowledge to understand the impact that music can have on our lives and cultures and how it can play an integral role in our emotional wellbeing. We aim to give children high aspirations which will enable them to foster a lifelong love for music and the confidence to continue to play and enjoy music into their adult lives.
Our music Curriculum is planned to demonstrate progression and build on and embed current skills. We focus on progression of knowledge and skills in the different musical components and teaching of vocabulary also forms part of the units of work. If children are achieving the knowledge and skills in lessons, then they are deemed to be making good or better progress. We measure the impact of our curriculum through the following methods:
Pupil discussions and interviewing the pupils about their learning (pupil voice).

Annual reporting and tracking of standards across the curriculum through 'progression snapshot' videos.

Photo and video evidence of the pupils practical learning.
Dedicated music leader time.

The impact of our music curriculum is also measured in the uptake of our music after school clubs and uptake of additional music 1:1 teaching.
Explore the blue banners below to find out more about what specific themes we teach in Music and how these themes are revisited, recalled and expanded upon as the children journey through the school.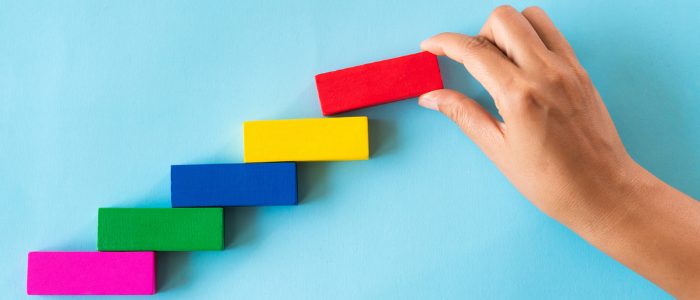 Year Group Overviews for Music
Progression for Music
Learning Journey for Music
Watch out for the following symbols in the Music Learning Journey: