Year 5 Learning Journeys
Year 5 develops pupils' understanding of independence and resilience, preparing for the end of Key Stage 2.
AUTUMN 1 "Gangsta Granny"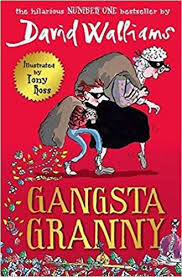 Our hero Ben is bored beyond belief after he is made to stay at his grandma's house. She's the most boring grandma ever! all she wants to do is to play Scrabble, and eat cabbage soup.
But there are two things Ben doesn't know about his grandma:
1) She was once an international jewel thief.
2) All her life, she has been plotting to steal the Crown Jewels, and now she needs Ben's help…
History - We will research, compare and examine Crime and Punishment throughout British History.
Art - Research a famous artist who used pointillism. Use learned skills of 'pointillism' to create a scene scape linked to Gangsta Granny text.
Music - Listen to examples of waltzes from great composers. Describe using the elements of music and compose in a similar genre.
PE - Learn the basic footwork of the waltz box step. Refine the skills with a partner and enjoy a 'Strictly-Style' dance off!