The School Day
Our classes are named after celestial bodies to embody our vision of learning being a progressive journey of exploration.
Regular timings can be seen below. However, during these times of social distancing, it has been necessary to stagger the school day so that we can keep children and adults as safe as possible.
Socially-Distanced Timetable 2020/21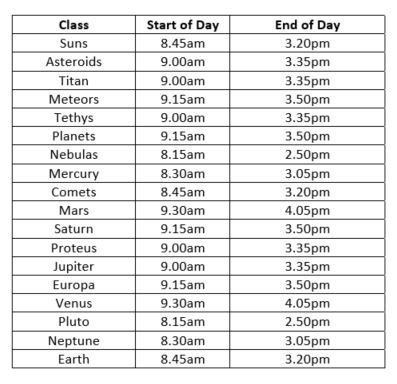 Lunches and break happen at various points throughout the school day to ensure good hygiene and that social distancing guidlines are adhered to.
Regular Timings:
Between 8.45am and 8.55am pupils are welcomed into their classrooms.
We invite parents and carers to come into the classrooms to explore their pupil's work in books and work, which is proudly displayed on the walls.
Parents and carers are invited in at the following times:
| | |
| --- | --- |
| Early Years and Foundation Stage: | Tuesday mornings 8.45am - 8.55am |
| Key Stage 1: | Tuesday mornings 8.45am - 8.55am |
| Key Stage 2: | Wednesday mornings 8.45am - 8.55am |
EYFS TIMETABLE:
The EYFS works around a fluid timetable. Breaks and learning sessions will change around depending on the day. However, start and end times for the day are the same as the rest of the school.
KEY STAGE 1

KS2 TIMETABLE: