Our Values & Ethos
Mission Statement
At Hillcrest, we nurture a love of reading to empower the children to unlock the full wonders of the curriculum, supporting them to unleash their creativity and champion their independence, helping them to achieve their full potential.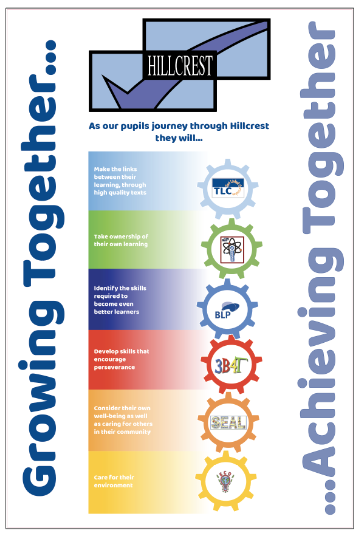 We aim for us all, as learners, to:
Feel safe and valued as part of a caring community that celebrates success.
Experience and actively participate in a relevant, enjoyable curriculum that evolves to meet the needs of all.
Inspire an 'enquiring' mind and ask questions.
Be independent thinkers / learners who are able to seek solutions creatively and co-operatively.
Be able to listen and articulate responses showing consideration to others.
Be polite and courteous.
Be proactive in our responsibilities towards the community, society, the environment and economy, linking 'real life' with our learning.
Understand and respect diversity.
Develop a sense of self-esteem: be well-balanced and healthy individuals.