Baseline Pupil Questionnaire report 2022/23
Baseline Pupil Questionnaire report
Hillcrest Primary School (2022 - 2023)
Below are the results from our pupil questionnaire, completed in Spring 2023. The purpose of the questionnaire is to ascertain:
The wellbeing of Hillcrest pupils and the levels of bullying in our school
Differing levels of experience for our pupils with SEN status and those in receipt of free school meals. This is because we know these young people are statistically more likely to experience bullying than their peers nationally
What specific areas we need to focus on as part of our anti-bullying activity
The pupil questionnaire comprises three sections. These items include:
Four items relating to life in school (E.g. I like going to school)
Ten items relating to pupil relationships (E.g. I am hit, pushed or kicked by other pupils)
Ten items relating to wellbeing (E.g. I am calm)
The Pupil Questionnaire was originally developed in collaboration with the Anna Freud Centre and the Evidence Based Practice Unit (EBPU) at University College London and was reviewed and updated in 2021 by Goldsmiths, University of London.
The Spring 2023 results!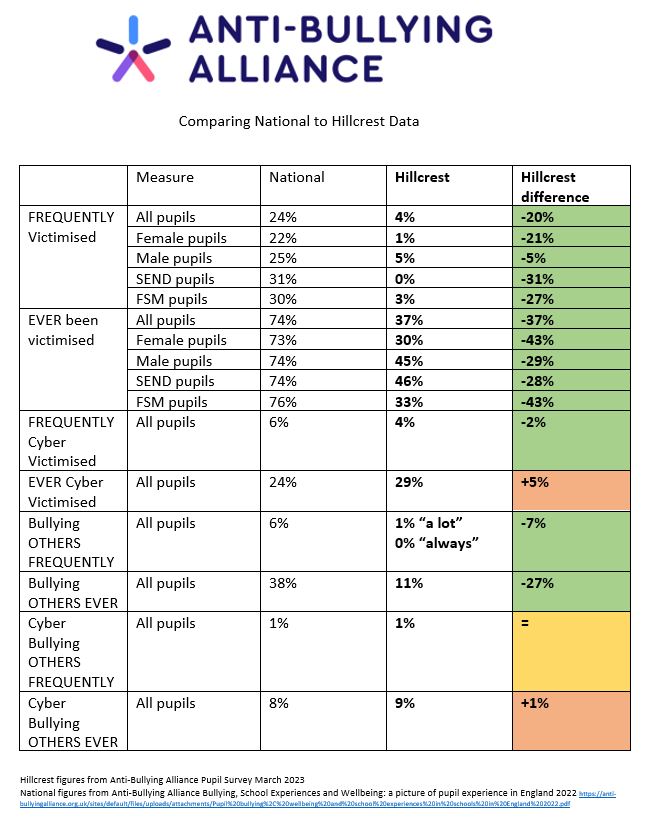 ACTION POINTS FROM THE SURVEY!
| ACTION POINT | DESCRIPTION | IMPACT |
| --- | --- | --- |
| ACTION POINT 1 | Parents & Carers after school information event to be held to further educate families on the dangers of children having access to certain apps. Families who have been involved in incidents prior to this will be invited personally. | Parents & Carers will be more informed on the dangers of certain apps and increase their monitoring of their child's device use, reducing risks and incidents of online bullying. |
| ACTION POINT 2 | Online Safety & Cyberbullying reviewed in our Lifeskills and Computing Curricula, ensuring high focus and coverage. | Online Safety & Cyberbullying wil be even higher focus within the curriculum and pupils will be mindful of topics covered, reducing incidents of online bullying. |
| ACTION POINT 3 | Our assembly sequence has been adapted to include more Online Safety & Cyberbullying elements. | Pupils will get direct messages about how incidents of online bullying will be dealt with and reminded that it will not go un-noticed or unchallenged. |
| ACTION POINT 4 | A series of Online Safety Guides will be sent home, via email, giving lots of current information about Healthy Online Habits and Apps (including Whatsapp, Snapchat and TikTok) for Parents and Carers to read, refer to and discuss with their children. | Parents & Carers will be more informed on the dangers of certain apps and increase their monitoring of their child's device use, reducing risks and incidents of online bullying. |
Here is the list of Online Safety Guides being sent home:
Week Commencing 15th May 2023 – Whatsapp

Week Commencing 22nd May 2023 – Safe & Healthy Online Habits

Week Commencing 5th June 2023 – TikTok

Week Commencing 12th June 2023 – Snapchat

Week Commencing 19th June 2023 – Cyber Resilience

Week Commencing 26th June 2023 – Instagram

Week Commencing 3rd July 2023 – YouTube

Week Commencing 10th July 2023 – Social Media & Mental Health
Further results from the survey: