See the Structure Grow!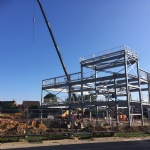 Hillcrest's fantatstic new build construction is in full swing while the pupils and staff are on holiday!
The steel structure is taking shape; the builders must have taken advantage of the sunny weather we had!
It is so exciting to see how much has changed in just a few short weeks. Seeing the structure begin to appear gives a hint of the fantastic learning spaces that our pupils will enjoy, maximising their learning!