Home
VACANCIES:
We currently have a vacancy for a Key Stage 2 teacher, commencing in Septmeber 2017!
We are also looking for a Site Manager and a number of Teaching Assistants for our growing school.
Click on the 'information' tab and then on 'Staff Vacancies' for more details!
PLANNING:
To our neighbours:
Due to rising pupil numbers and the fact that our children have had to put up with mobile classrooms on site for over 13 years, County have finally agreed to give us a new building! This new building (shown red on this plan) will replace all of the mobiles on site and provide a few extra classes for us to grow into. The build will also give us extra playground and parking (shown dark grey on this map)!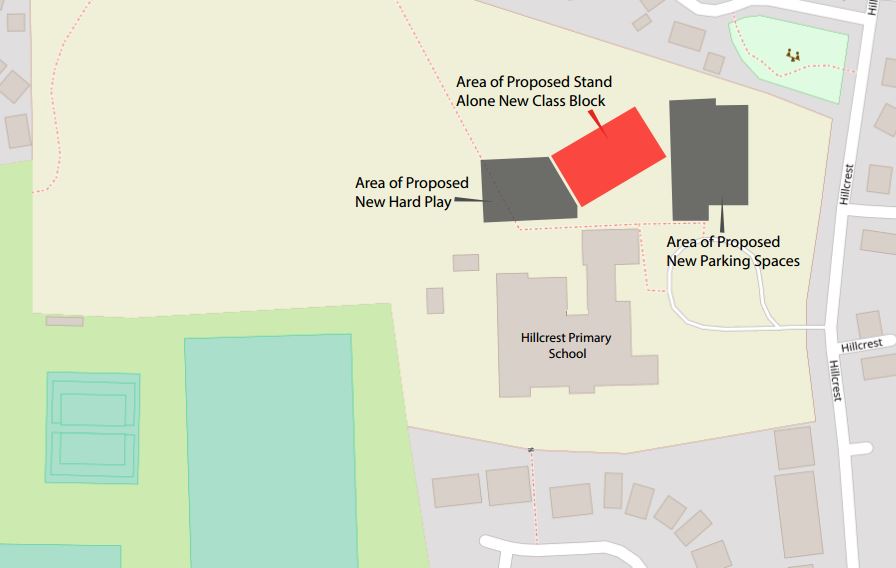 We would like to invite you to view the plans after school on Thursday 25th May 2017 between 3.00pm to 6.00pm although we would ask that members of the local community who do not have children at the school drop in AFTER 3.45pm to ensure that youdo not get confused with parents during the collection period.
Details can be downloaded below.
Welcome to Hillcrest Primary; judged by OFSTED as a GOOD school in September 2013. It is a dynamic and happy place to learn and work.
Please feel free to browse the site to discover more about us. You will find information about our history and our school's learning ethos.
If you would like more information, please visit the 'Contact Us' tab for ways to get in touch.